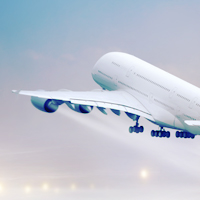 The R&D center CIMNE, specialized in numerical methods in engineering, participates in four projects of the aeronautics sector in China. In the framework of the European Commission programme H2020, CIMNE is an active actor in the aeronautical sector in partnership with some chinese and european companies and universities.
Airbus or AVIC (the largest chinese aeronautic company) are some of the companies that participate in these projects that counts with some 2 milion euros budget from the European Commission.
The projects, one of these led by CIMNE, approach a wide range of topics such as the reduction of drag resistance and the noise, the use of new composite materials and the optimization of the additive manufacturing processes of the pieces for the structure of the plane.
In the last ten years CIMNE has participated in another six projects of the aeronautics programme Europe-China, five of these coordinated by CIMNE in collaboration with the CIMNE office in Beijing.