A partir de julio de 2017, RIMNI pasa a publicarse en
La Revista Internacional de Métodos Numéricos en Ingeniería (RIMNI) pasará a publicarse en formato Open Access en la plataforma Scipedia. Scipedia es una nueva iniciativa promovida por CIMNE, para impulsar la publicación Open Access.
RIMNI continuará con la posibilidad de escribir los artículos en español, portugués o inglés y con el cobro de una cantidad mínima por publicar para cubrir los gastos de gestión de la revista.
RIMNI continuaría indexada en las bases de datos de la Web of Knowledge y, por tanto, formaría parte de las revistas indexadas en el JCR. El factor de Impacto de RIMNI en 2016 ha sido de 0.431, cifra que duplica el FI del año anterior.
+ Leer carta de los editores
+ Read letter from the editors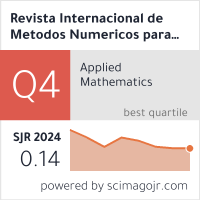 > Versatilidad:
La plataforma permite gestionar cada artículo a partir del formato original del documento (Word o Latex).
> Mejora del posicionamiento en buscadores:
Todas las partes del artículo serán identificables por los robots de los buscadores.
> 100% editable:
Los artículos también pueden editarse online (wikitext) para incluir en ellos texto, vídeos, presentaciones, archivos de datos, modelos, etc.
Revista indexada o resumida por:
Actualidad Iberoamericana, Advanced Polymers Abstracts, Aluminum Industry Abstracts, Applied Mechanics Reviews, ArticleFirst, Bibliografia Española de Revistas Cientificas de Ciencia y Tecnologia, Ceramic Abstracts, Composites Industry Abstracts, Computer and Information Systems Abstracts Journal, Corrosion Abstracts, Current Mathematical Publications, Dialnet, Earthquake Engineering Abstracts, Electronics and Communications Abstracts Journal, Engineered Materials Abstracts, Environmental Engineering Abstracts, Inspec, International Aerospace Abstracts, International Building Services Abstracts, International Civil Engineering Abstracts, Journal Citation Reports/Science Edition, Latindex, Materials Business File, Mathematical Reviews, MathSciNet, Mechanical & Transportation Engineering Abstracts, METADEX, OCLC, Scielo, Science Citation Index Expanded, Solid State and Superconductivity Abstracts, Zentralblatt MATH, World Ceramics Abstracts y Scopus.