Fibre4Yards is a project funded by the European Union's Horizon 2020 that gathers 13 partner organisations from six European countries -CIMNE (coordinator), SAS L-UP, TSI, TUL, INEGI, NAVAL Group, COMPASSIS, Curve Works, IRURENA, 10XL, Innov Ateknea, Bureau Veritas, IRT Jules Verne- for 36 months, to contribute to maintaining the European leadership in shipbuilding and maintenance.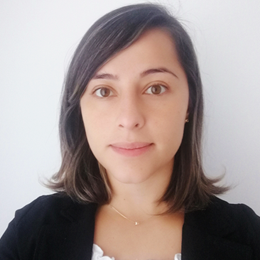 SEVERO OCHOA PhD Student (Colombia, 1992)
Sthefania Grajales
Disaster Risk and Resilience group
PhD title: "Probabilistic fire risk model to apply in the wildland-urban interface (WUI)"
Grajales has recently joined the research team led by Professor Liliana Carreño. Her research is focused on probabilistic risk assessment of wild and urban fires through the characterization of the hazard, exposure and vulnerability components. The approach allows impact evaluation in terms of economic losses driven by the current and future climate scenarios.
SEVERO OCHOA PhD Student (Pakistan, 1992)
Zulkeefal Dar
Fluid Mechanics group
PhD title: "Optimization of Fluid-based problems using Reduced-Order Models"
Dar is a Computational Fluid Dynamics and Clean Energy enthusiast. He has been a part of CIMNE since November 2020 as a Severo Ochoa PhD student in the Fluid Mechanics group led by Prof. Ramon Codina. His fields of interest include: Wind/Tidal Energy - Numerical Methods - Reduced-Order Modeling - Artificial Neural Networks - Optimization - Turbulence Modeling
Monte Carlo (MLMC) method for Uncertainty Quantification
CIMNE researchers Santiago Badia, Jerrad Hampton and Javier Príncipe from the Large Scale Scientific Computing group have recently published the paper "Embedded multilevel monte carlo for uncertainty quantification in random domains" in the american scientific magazine "International Journal for Uncertainty Quantification", edited by the Begell House.
June 2021 is packed with professional meetings related to engineering. Organized by the CIMNE Congress Bureau, these events are presented as spaces for exchange to share knowledge between researchers, companies and technology developers.
S. Ochoa Seminar by Rainald Lohner
The current pandemic has renewed interest in pathogen propagation, transmission and mitigation.
Prof. Rainald Lohner, a visiting scientist at CIMNE, has recently published the results of his research in the New York Times.
Prof. Oñate's Coffee Talk
On June 8th, Prof. Eugenio Oñate will present his vision of the history of CIMNE in the Severo Ochoa Coffee Talk titled "34 years of CIMNE and beyond. A personal view".
Centre Internacional de Mètodes Numèrics a l'Enginyeria © 2021