The paper "The material point method for unsaturated soils" authored by CIMNE researchers Alba Yerro, Eduardo Alonso and Núria Pinyol published in Géotechnique (2015) received on 7th October, 2016, the Telford Gold Medal, the highest prize awarded by the British Institution of Civil Engineers (ICE) for a published paper.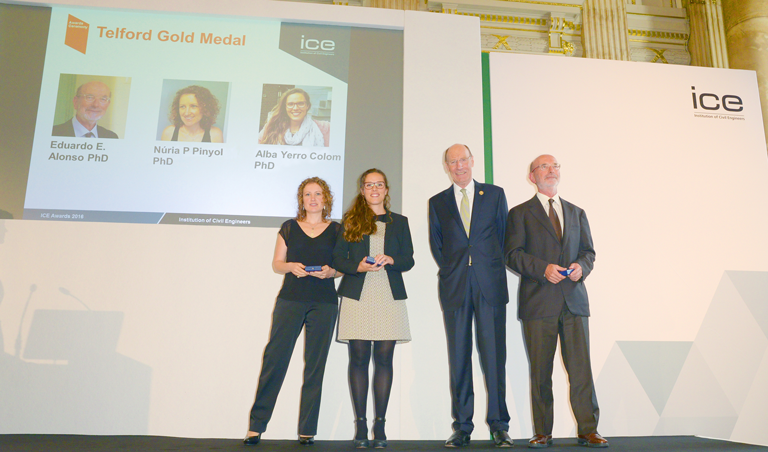 From left to right: PhD Núria Pinyol, PhD Alba Yerro, Sir John Armitt (ICE president) and PhD Eduardo Alonso.

The paper presents a formulation of the material point method (MPM) for unsaturated soils, coupling both the water and air flow with the mechanical response of the soil skeleton. In this respect, the addition of the air-phase in the formulation is novel. The committee concluded the winning paper was a well-presented formulation and application to a practical problem.
About ICE and the award
The Institution of Civil Engineers (ICE) is a professional association for civil engineers based in London that has more than 90,000 members, of whom three quarters are located in the United Kingdom, while the rest are located in more than 150 countries around the world.
The Telford Gold Medal is the highest prize awarded by the ICE for a paper or series of papers. It was introduced in 1835 following a bequest made by Thomas Telford, the ICE's first president.