HealthApp, TAOC and Lhings, three spin-offs of CIMNE, via the company CIMNE Tecnología SA, have taken part recently at MWC 2017, the largest mobile event celebrated in Barcelona from 27th February to 2nd March, 2017. The three companies have made a good assessment of their participation at the event.

Jordi Cusidó, CEO at HealthApp, highlights the great affluence of visitors to the stand and the high visibility of its products dedicated to support health therapies: "We have more than 300 meetings at the stand and more than 50 first level leads generated with, for example, pharmaceutical companies, hospitals, telecommunications operators and companies interested in the use and integration of HealthApp's solutions". HealthApp offers innovation and digitalization in the health field to connect patients and medical professionals.
OKO at MWC. The President of the Catalan Government, Carles Puigdemont, and Jordi Baiget, Minister of Business and Knowledge of the Catalan Government, visited the stand during the event.
During the MWC was also presented four OKO products developed by CIMNE TIC in cooperation with the spin-off TAOC: MyOKO (10"), for B2C sector, designed for home and personal use –available on Amazon–; OKO Smartframe 21" (or largest), for retail sector; OKO Mirror, an smartframe in mirror format with "Bot" technology and voice recognition; and GIZGO powered by OKO, an alliance that has started at MWC and nowadays is being implemented to incorporate OKO's technology and software in GIZGO products (digital mini-totems that can simultaneously charge smartphones and are used for e-commerce and digital marketing in events, hotels, restaurants, etc. Also, as a result of the contacts made at the MWC, OKO will participate at the Global Keiretsu Forum Barcelona at the Barcelona Stock Exchange.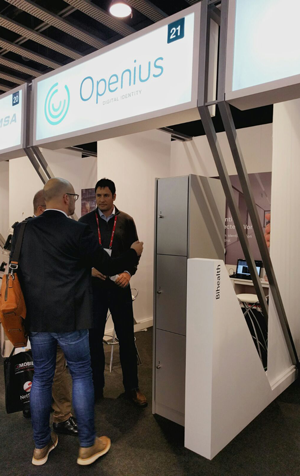 Lhings' stand at MWC 2017
Agustín Navarro and Sergi Martínez, from Lhings, presented Optimus at the mobile MWC. Navarro, founder and CEO of Lhings, explains that the company presented Openius App, a tool to open and get access to restricted locations or services. As part of the Openius Access Control Service, this App allows the user to receive multiple permissions to get access to different locations or services from different providers of Openius enabled spaces.