On Monday, April 15th, the Catalan Minister of Digital Policy and Public Administration, Mr. Jordi Puigneró, visited CIMNE in order to know first-hand the ICT research and technology development activities carried out at the centre. He was accompanied in the visit by Mr. Daniel Marco, director of the SmartCatalonia Programme.
On his visit, the Minister met with Dr. Eugenio Oñate, Director of CIMNE, Dr. Gabriel Bugeda, Vice-rector for Science Policy of the Technical University of Catalonia (UPC), Dr. Pedro Díez, Dean of the Civil Engineering School of UPC and several senior researchers of CIMNE.
The visit began with a general presentation by Dr. Oñate, where he outlined the most relevant activities in the field of ICT currently being developed at CIMNE and its spin-off companies. Afterwards, they visited the CIMNE Tecnología SA facilities located in the new B0 building at UPC's Campus Nord.
CIMNE Tecnología SA was created in 2011 with the aim to protect the intellectual property of CIMNE research outputs, and to industrialize and commercialize the technology and prototypes developed at CIMNE at national and international level. CIMNE Tecnologia is made up of a multidisciplinary team with over fifteen years of experience in the creation, management and growth of technology-based companies. Since 2011 CIMNE Tecnologia has fostered the creation of 15 CIMNE spin-off companies.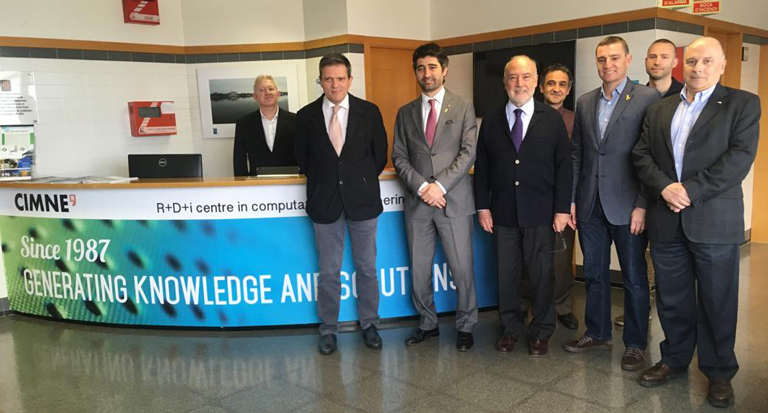 From left to right: I. Valero (CIMNE), P. Diez (UPC/CIMNE), J. Puigneró (Minister of Digital Policy, Catalan Gov.), E. Oñate (CIMNE), J. Mora (CIMNE), D. Marco (Catalan Gov.), A. Tena (CIMNE) and G. Bugeda (UPC/CIMNE)