On Sunday June 2nd 2019, CIMNE appeared in the news at La Vanguardia for the design of an innovative system for coastal protection to mitigate the effect of storms in sandy beaches using inflatable breakwaters. The idea is to build submerged structures laid on the seabed that can be selectively inflated to form breakwaters whenever is needed, and in situations of severe weather conditions.
The director of CIMNE, Eugenio Oñate, explains that the idea to use inflatable reefs for protecting beaches from storms was first proposed by the civil engineer Fernando Hermosilla seven years ago. Later, another civil engineer and a CIMNE scientist, Pere Andreu Ubach, has stepped in combining his nautical knowledge. Mr. Ubach, who has been concerned about the erosion of beaches for some time, has invented an inflatable breakwater device that tackles many of the shortcomings of the initial inflatable reef idea. This invention has been jointly patented by himself and CIMNE. Mr. Hermosilla is also partnering with CIMNE to turn the invention into reality.
The smart inflatable breakwaters are fixed to a concrete base placed on the sea bottom. The discretionary inflation is managed from shore and allows to control the transport of sediments year-round and to protect the beach against storms.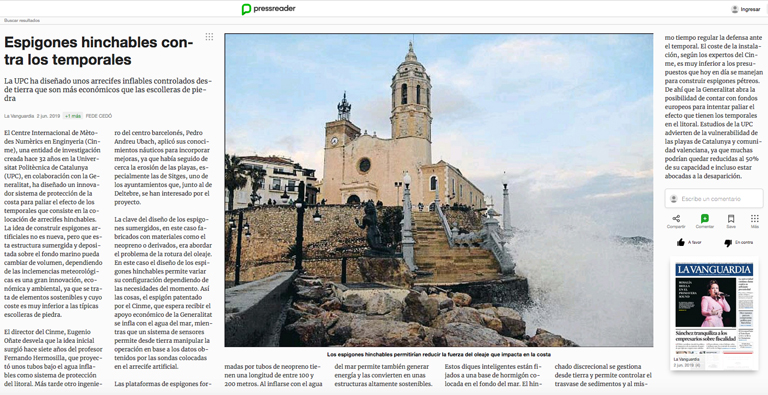 Pere Andreu Ubach has analysed, together with Fernando Hermosilla and Dr. Pavel Ryzhakov from CIMNE, the effect of these new marine protection structures in several beaches, especially in the sea villages of Sitges and Deltebre, whose local councils have shown interest in the project.
In the next months, CIMNE will design and test the effectiveness of a scale prototype of inflatable breakwater at the Technical University of Catalonia (UPC). This activity will be developed in the framework of a Producte project funded by the Catalan Government and the FEDER programme of the European Comission and has the support of Secretaria d'Universitats i Recerca del Departament d'Empresa i Coneixement de la Generalitat de Catalunya. The construction of a pilot project in a beach of Catalonia is currently under consideration by the administrations responsible for the protection of beaches in Catalonia and the Spanish Government.
| | | | | | |
| --- | --- | --- | --- | --- | --- |
| Funded by: | | | | | |
Read article | Further articles in the media: Crónica Global