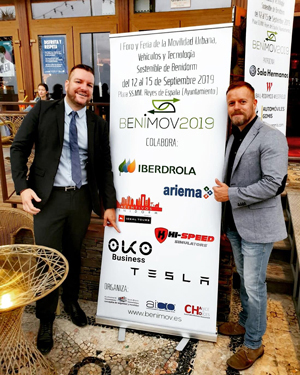 S. Otero (left) and J. Jiménez (right)
The startup company of CIMNE OKO Business (OKTICS ATZ, SL) was the responsible for guaranteeing an optimal experience in the field of posters and hospitality to the Premium brands that exhibited their products at the fair of urban mobility, vehicles and sustainable technology, Benimov, held from September 12 to 15 in Benidorm.
With the disruptive technology that characterizes the company, OKO offered its cloud-based content management technology for its screens, while visitors to the stands could charge their phones at the OKO charging points by visiting vehicles exhibited at the fair.
In total, three companies offered their visitors such technology: Volkswagen, Renault and Hyundai relied on OKO to increase their corporate branding.
In Benimov there was no shortage of the company's interactive pictures. At the OKO Smartframe the different brands showed their vehicles and news through this striking system.
The organization thanked Jordi Jiménez, the OKO's CEO and alma mater of the project, for attending the fair. Sergio Otero, Commercial Director of the company, expressed his gratitude and trust to the organization to help the brand to become a leader in digital signage services for large sports and leisure events.

In recent years, OKO has been responsible for digital signage services for major events such as the 37th edition of the King's Sailing Cup and technology provider at the Mare Nostrum Cup. A milestone derived from experience, professionalism, quality and innovation in each of the services offered.

From left to right: Ángel Priegue (CTO of the ICT CIMNE group), Raúl Parra (AICO president), Sergio Otero (Commercial Director of OKO) and Jordi Jiménez (CEO of OKO).

Renault's stand in Benimov
Related news: "Ángel Priegue presents the project EnerNetMob in the first edition of Benimov 2019"