The Form and Force international conference, organized by CIMNE, was held at the Crowne Plaza Hotel in Barcelona, Spain, on October 7-10th 2019.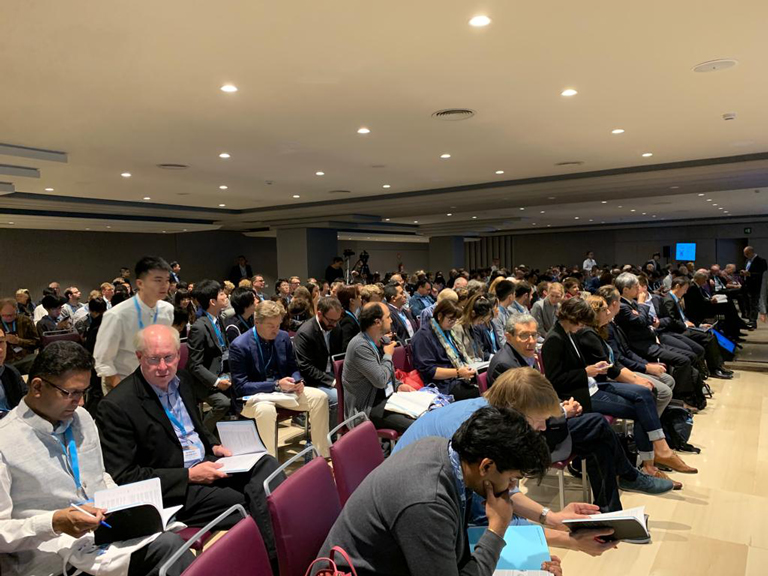 View of the main Auditorium
Form and Force has incorporated the 2019 Symposium of the International Association of Shells and Spatial Structures (IASS), celebrating its 60th anniversary this year, and the Structural Membranes 2019 Conference organized biannually by CIMNE.
The technical sessions of the conference were complemented by an exhibition of 34 structural models of innovative light-weight structures designed and built by groups of young engineers and architects from 25 different countries.

The announcement of the conference
The title of the conference, Form and Force, reflects a shared idea of all those concerned with innovation in structures: the interplay between structural form and physical forces which is key to understanding behaviour, improving design, achieving beauty, increasing efficiency and reducing carbon footprint. Tension and membrane structures, shells and spatial structures show, better than any other structural type, that shape and stress, form and force, are deeply interrelated. This relationship reaches well beyond purely static aspects and has an impact on performance, design, environment and aesthetics of structures in multiple fields of application.

View of conference banquet at Atarazanas (medieval shipyards of Barcelona)

The conference has gathered over 800 participants from 48 different countries worldwide. The technical programme included 600 technical presentations distributed in some 100 parallel sessions.

The conference presentations have covered the following topics:
Conceptual Design, Computational Form Finding,
Optimization Computational Methods for Analysis
Detailing and Construction
Damage, Fracture and Fatigue
Testing Procedures
Maintenance Techniques
Advanced Manufacturing
Advanced and Bio-based Materials
Environmental Compatibility
Historical Structures
Teaching and Education
Shell Structures
Tension and Membranes Structures
Inflatable Structures
Framed and Lattice Structures

Gridshells and Bending-Active Structures
Tensegrity Systems
Adaptive System
Deployable and Origami Systems
Temporary Structures
Metal Spatial Structures
Plasticity in Additive Manufactured Materials
Timber and Bio-based Structures
Glass Structure
Applications: shell roofs, shell structures for power technology, masts, and towers, tile vaults, membrane roofs and covers, sails, inflatable pavilions and buildings, light-weight bridges, airships and airspace structures inflatable, antennas, high altitude platforms furniture, bio-medicine textiles for clothes, etc.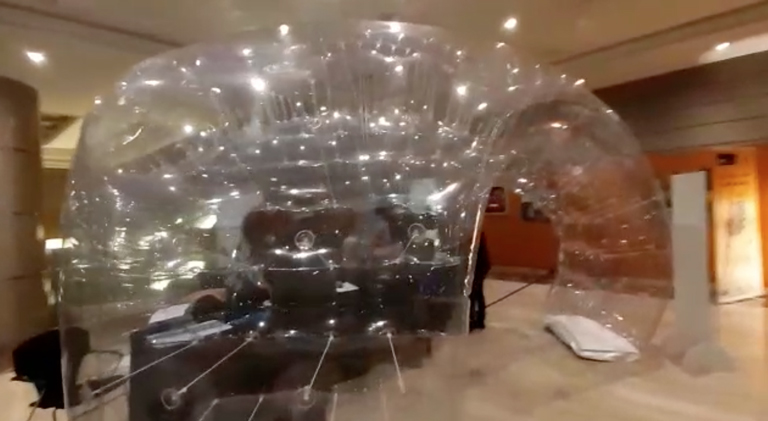 View of transparent inflatable pavilion used as conference secretariat designed by pms. See video in Youtube Channel)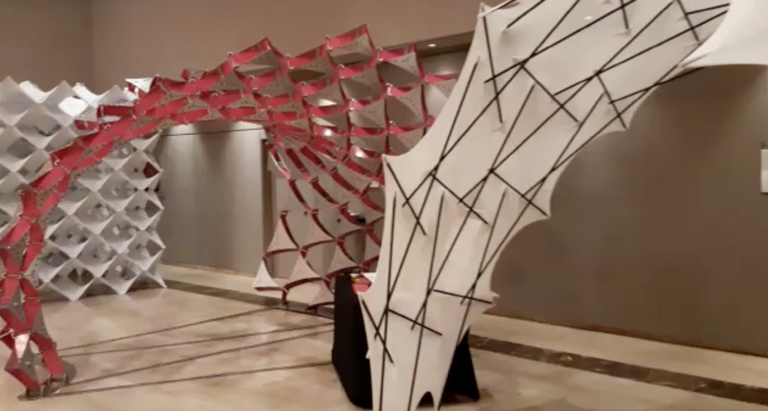 Video of exhibition of structural models. See video in Youtube Channel)