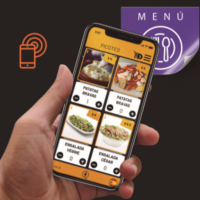 OKTICS, a spin-off specialized in helping companies in their digital transformation, is committed to contactless technology to overcome the COVID-19 crisis. The company has developed and implemented digital signage, corporate communication and virtual waiters.
To help the Horeca sector, OKTICS has integrated its virtual waiter technology into "contactless" stickers (the OKO Magic Stickers). Customers can place their order from their mobile phone, approaching it to the sticker without downloading any app or read any code. "This helps the sector to solve the problem of menus and room service, which are possible sources of infection, avoiding possible contagions, eliminating the role of the premises, minimizing the exposure of the client and waiter, as well as the time of average attention per table and increasing the average amount of orders", says Jordi Jiménez, CEO of the company.
According to Sergio Otero, commercial director of OKTICS, "with our system, the business owner can schedule and/or change the content that the client will see at any time, depending on the time of day: in the morning you can see the breakfasts; at noon, the food menu; and at night, cocktails; or for example, promote upcoming events and encourage cross-selling. You can also schedule different contents, depending on the location of each sticker: terrace, pool, room, etc. and all from an easy interface, from where you can control and view the content of all your stickers". In addition —he points out —"our solution makes personalized functionalites available to the brands that want to sponsor it, which is of great interest to their MKT and branding departments".
This technology has already been implemented in several cafes and restaurants in the Barcelona area. A large beverage brand has already signed a collaboration agreement and they have already started offering it to all their customers. Other beer and coffee companies have contacted OKTICS to implement this technology for their clients, as well as large hotel chains and some restaurants in Barcelona. "In a short space of time, we will all be able to enjoy this technology that, in addition, can be adapted to be embedded in tables, hammocks, hotel keys and in formats like plastic, metal, cork or bamboo, which are more resistant than other solutions in paper that cannot support surfaces where they can get wet or scrubbed, among others", as Eugenio Oñate Hospital, CTO of OKTICS, explains. He also highlights that the company "has launched low-cost technology at a very competitive price to help the sector at its worst moment". Groups such as Meliá, Paladium, Goofretti, MGA, New Park, among others, have already relied on the solutions proposed by OKTICS.

Know more about OKO Business