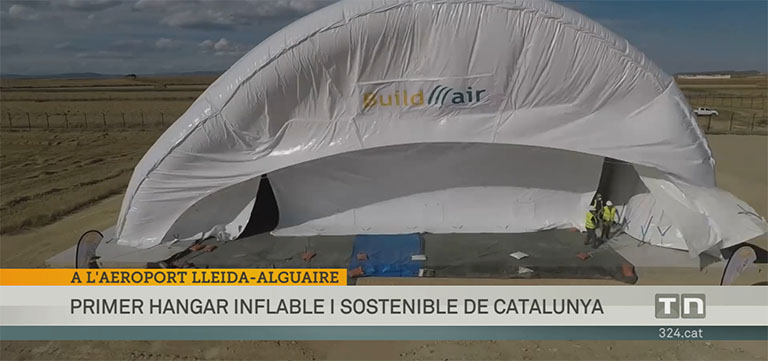 The company Buildair, a spin-off of CIMNE, has installed an inflatable and mobile hangar at the airport of Lleida-Alguaire. This pilot test will allow to evaluate its functionality and to publicize its possible uses, especially for the aeronautical, industrial and even military sectors.
On 16 June 2020, the infrastructure was visited by representatives of the Government of Catalonia: the Secretary General for Territory and Sustainability, Ferran Falcó, and the Secretary for Infrastructures and Mobility, Isidre Gavín, who were guided by the Director of Airports of Catalonia, Jordi Candela, the President of the company, Javier Marcipar, and the CEO of Buildair, Jordi Pirretas.
This hangar is inflatable, mobile, watertight and resistant to extreme and changing environmental conditions. The structures are designed and manufactured for most aeronautical and industrial application needs. This installation is portable and easy to move and it can be inflated in different places and on different types of terrain (concrete, hard floor, etc.) by using a simple anchoring system. All in all, it represents a significant saving of time and money.
As this structure can be assembled in a short time, it enables to meet tight deadlines such as new contracts, unexpected workloads or maximum traffic stations.
In the media: TN Migdia (TV3, min. 42) | Catalunya Ràdio | Europa Press | Lleida.com