On 17th December 2015, Alessandro Franci, Post Doc at CIMNE, has been awarded a Premi Pioner 2015 with his PhD thesis entitled "Unified Lagrangian formulation for fluid and solid mechanics, fluid-structure interaction and coupled thermal problems using the PFEM".

"Receiving this type of awards is extremely gratifying and motivates me to continue with the same dedication towards new objectives", explains the award-winning. Franci is a Civil Engineer and master degree in Structural Design by the Politecnico di Milano and PhD by the Universitat Politècnica de Catalunya. His research is centered in finite element methods applied to fluid-structure interaction and coupled thermal problems. According to Franci, this award is not exclusively his: "Is a shared recognition with my thesis directors, Prof. Eugenio Oñate and Dr. Josep Maria Carbonell".
From left to right: Prof. Eugenio Oñate, Dr. Alessandro Franci and Dr. Josep Maria Carbonell
Premis Pioner
The prizes born with the desire to recognize those CERCA researchers that have presented the thesis during the last 18 months. The main goal is to start or strengthen a technology or product that may be of interest to industrial or commercial, or contributes significantly to the development of public policy.
In line with the mission of these awards, the award-winning Alessandro Franci explains that "the relationship between research and industry should be stronger. From our side we should encourage, or at least not undervalue, those academic works that are exclusively devoted to industrial applications. At the same time, the industry should be more confident and consider the long-term benefits of collaborate with research centres".
The Premis Pioner 2015 comes with five prizes of 1,000 euros each one provided by CERCA's collaborating institutions and companies. This second edition was attended by a total of nineteen researchers (10 men and 9 women) from thirteen CERCA centers. By areas, there have been three science projects; seven from medical sciences and health; three of life sciences and six of engineering.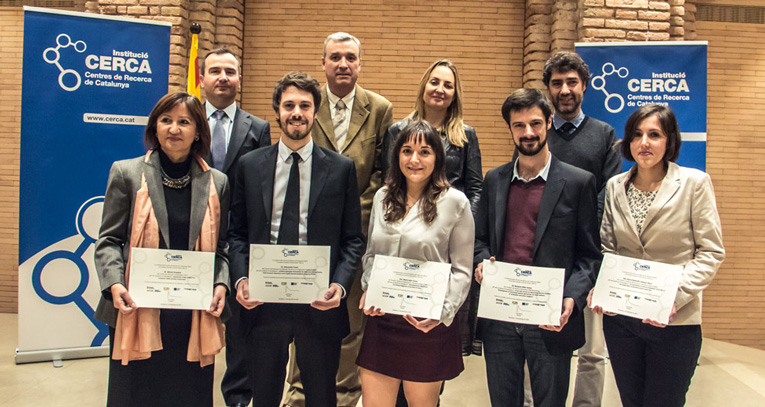 From left to right:
Pere Condom, Director of the Programa Catalunya Emprèn; Carles Ullastre, Commercial manager at Uniglobe VIAP; Laura Rubio, Communications manager at FCRI; and Lluís Rovira, director of CERCA, accompanied by the winners: Petia Radeva on behalf of Michal Drozdzal (CVC); Alessandro Franci (CIMNE); Maria Soler (ICN2); Benjamí Oller (IRB Barcelona); Nuria A. Vázquez (ICN2).
The jury was composed of Eduard Balbuena, professor at the Department of Enterprise of the UAB; Javier Marcipar, Director of CIMNE Tecnología; Lluís Blanc, director of the Institut Universitari Parc Taulí; Josep Maria Pujals, lawyer at Oficina Ponti and Anna López Lozano, Director of Intellectual Property at EQ Esteve.