The yearly appointment on EU Infrastructure Policy, TEN-T Days, took place in Rotterdam (The Netherlands) from the 20th to the 22nd of June. It was promoted by the Directorate General for Mobility and Transport of the European Commission.
At the TEN-T Days conference, key stakeholders, national and EU representatives discussed the development of the Trans-European Transport Network. The event also addressed financial issues, in order to assess opportunities to mobilize even more investments in the future.
MoS presentation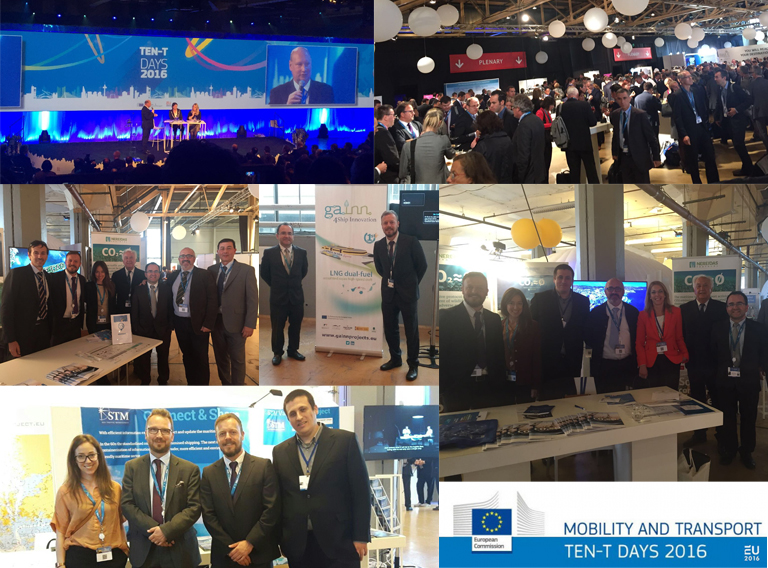 On June 22nd, during the MoS dedicated session, Mr. Brian Simpson (OBE - Order of the British Empire-) presented the Detailed Implementation Plan (DIP) of the MoS.
The TEN-T Days Exhibition hosted more than 100 different projects and initiatives. OnTheMoSWay took part in the exhibition with a stand to showcase the portal contents and MoS project developments. Among the exhibited projects, CIMNE took part in five of them: Nereidas, Gain4MoS, Gain4Ship, STM, WiderMoS.
The Spanish Minister of Development, Ana Pastor, visited and showed her interest in the Nereidas project. This project aims to develop a standardization tool for the implementation of preventive and compensatory measures for environmental impacts related to transport and port activities.

The Minister of Development of Spain, Ana Pastor (third from the left), with CIMNE participants in the Nereidas project (Mr. Jordi Jiménez and Dr. Pedro Arnau, second and third from the right) and other project partners.