Objectives
The specific result of the joint work will be a portable, environment-friendly inflatable structure designed with the specific needs of emergency shelters in mind. Its main characteristics will be:
1. Lightness, portability and easiness in transportation and construction.
2. Optimized performance thanks to the innovative materials used:

a. Carbon fibre cables
b. Polymeric membranes

3. Self-sustainability, integrating photovoltaic cells in the membrane.
4. Optimized design
5. Lower design and maintenance costs, thanks to the following reasons:

a. Reduced number of wind tunnel experiments thanks to the Numerical Wind Tunnel tool
b. Lower energy consumption thank to photovoltaic cells
c. Easy set up when compared to rigid or semi-rigid structures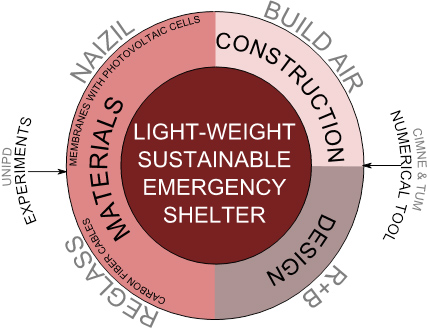 Every year several thousand people become homeless due to natural disasters as earthquakes, floods or wind storms, which periodically affect wide areas of the Earth. To face such situations emergency flying squads, national emergency squads and international organizations (military, red cross…), need to be able to quickly deploy temporary housing (mainly tents), facilities such as hospitals or headquarters, and infrastructures (roads, bridges, harbors) in different and adverse conditions. The importance and extent of such catastrophic events is unfortunately expected to rise over the next decades due to the impact of the global warming. While modern societies have limited power in preventing such exceptional events, they are expected to react in short time to any emergency situation, providing an efficient post-disaster intervention and reducing its economic and social impacts. In this sense, the present work aims to provide an answer to the increasing need for highly portable post disaster facilities, which could be satisfied by using temporary lightweight structures like tents, inflatable covers, portable warehouses or hangars.

The idea is to leverage the large experience in design and construction of lightweight structures of the SMEs to improve the efficiency of their products with the use of innovative materials that can provide an enhanced performance while reducing some drawbacks. This can be obtained with the joint work of all the partners of the uLites, providing their expertise to achieve the following objectives:
1. Creation, testing and patenting of new materials both for the cable and membrane parts.
2. Improvement of the sustainability and reusability of these structures.
3. Optimization of the design process of inflatable structures.
4. Extended validation and testing of prototypes to create guidelines for future developments.